Post by Rion Leingod on Aug 21, 2013 4:34:16 GMT -5
RION LEINGOD
Basic Information
Name
: Rion Leingod
___ of the Eternal Flames, — In the beginning Rion was a follower of the higher being, angel of the twinkling heavens, governors of justice, light, and fate themselves. In those times his name was Adell, and he was an angel of the highest order, following in his blind faith to those who had protected the world for so long. However after the merciless murdering of his mother and love before him due to his questioning of faith: he took to striking the heaven's in the heart: stealing the very flames that burned bright and gave light to the beyonder. Stealing the ancients halo he descended to the mortal omniverse only to observe the collapse of the heavens and protector of stars themselves, henceforth becoming a man of incredible reverence and fear. The embodiment of corrupted eternal flames, Rion's power knew virtually no bounds.
The Black Beast, — Eventually throughout his tales in which he streaked across the stars, he met a beast that he could call his equal, the one which guarded the legendary treasures of fable dating back to the world's beginning. Fighting the beast he earned it's title of the Black Beast and ordered the forging of a weapon from it's remains, that which in it's dormant form would be known as "Beowulf", in which he took to the stars once again in his ceaseless vagabonding until it awakened to it's true form, the "Albinus".
the Red Dragon, — Over the course of his journeys he was struck by the curse of his ancestors and descended upon the world of Ivalice, where he was robbed of all his powers, abilties, and memories. It was there that he met his equal once more, and they soared to great heights together, and while his partner earned a more fitting title Rion settled with title of the Red Dragon, being as a dragon is more powerful than a lion, but gold is better than red itself. Eventually the two streaked across the stars and were known throughout as the greatest, fighting many adeal of opponents considered to be the strongest in their time.
Protector of the Light?, — Having lost his memories in the destruction of Ivalice once more and in the intervention of Mickey himself, Rion lost his powers and memories once more, only to be touched by a darkness that disguises itself as light. Unaware of who he truly is and the path that he's walked he seeks to protect the light from being touched and found by any, and to allow the darkness to spread for the inevitability of rebirth that's imperative. And by any means necessesary. While he's still growing, he's still revered for what few people knew of what he once was, and who he might become.
Age
: Twenty-six (presumably),
Gender
: Male,
Race
: Demi-God (hume for the sake of the story if need-be),
Appearance
: Rion's stature is downright frightening and on glance terror can be felt in the weaker heart from his towering six-foot four standing of blending white, red, and bronze. A musculature that resembles that of a beast his body's incredibly toned and the destruction that's wrought from it lives up to his previous name as the Black Beast. With a resounding aura of darkness but odd light and matching cardinal eyes that speak death with their every look Rion's appearance can only be described in few, if any words: Demanding, powerful, yet unknown all the same.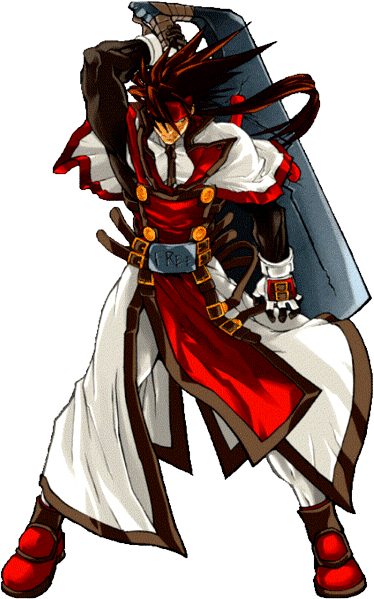 Personality
Personality
: Arrogance, intolerance and impatience were once dominant features in his behavior. These flaws were allowed to rage freely, causing recklessness and rash decisions in situations of heat. They are still present, with the exception of impatience, though masked and hidden away from the public to see. Ever since facing the unknown darkness becoming a so-called Light Bearer, he was never the same man. The ability he had to think ahead and form long-term machinations was brought up to a new level, and there was a new and significant amount of self-control present about his visible person.
To the random passer-by, good or evil, a clean and friendly tone is met. Exceptionally charismatic and emanating a powerful aura of confidence and strength, he rarely has much trouble with charming most people he crosses paths with. But still, something about him is not quite right. It's nothing you can put your finger on, and the average denizen of the world will never notice much of it. But to those of insight and/or experience, he will not manage to retain the slippery and silver-covered appearance he tries so hard to uphold. Deep down, they will know something is off, without having anything clear to point at. It's a hunch and a gut feeling.
But underneath the relatively smooth surface, darkness broods, a darkness linked to his previous life, regardless of his lack of memories. The deception employed to reach the ultimate goal is beyond imagination, both in creativity and ruthlessness. He will stop at nothing - no magic, no uttered word, no lie, no incompassionate and cold-blooded murder - nothing is taboo. Whatever it takes to preserve the chances he believes himself to have at an even greater existence, he will do. Without so much as flinching, he will lie your skin full, while witnessing the slaughter of your own children right behind your back. Cold of heart and ruthless in method, to say that the hunger for power drives him to become a fatally dangerous person to come across is a vast understatement.
The level of impatience he previously had was turned around and became an extreme on the other side, even greater in magnitude than prior to the ascension. With this patience, this willing eagerness to deceive and manipulate, and the ruthless determination, another set of traits is spawned: Always is he thinking ahead and towards the greater goal. A sly and cunning sense of choosing his battles has evolved, which to win, which to lose, and which to not engage in at all (regardless of the fact that he acts against it sometimes). It has become his specialty and his most sacred weapon, to trick people into underestimating himself, always keeping all his cards as close to his chest as possible. Something not linked to his prior-self, but likely rooted in his his rebirth and touch of darkness.
Alignment
: Chaotic Neutral,
— A chaotic neutral character follows his whims. He is an individualist first and last. He values his own liberty but doesn't strive to protect others' freedom. He avoids authority, resents restrictions, and challenges traditions. A chaotic neutral character does not intentionally disrupt organizations as part of a campaign of anarchy. To do so, he would have to be motivated either by good (and a desire to liberate others) or evil (and a desire to make those different from himself suffer). A chaotic neutral character may be unpredictable, but his behavior is not totally random. He is not as likely to jump off a bridge as to cross it.
History
Original World
: Eden (World of Angels), directly prior to Kingdom-Hearts: From Darkness to Light: Ivalice (destroyed).
Current World
: Radiant Garden(?)
History
: The irony of his past is a convoluted mess of betrayal and torture, falling prey to the sins of humanity's vices and their forefathers mistakes. Rion found himself falling from the heaven's in defiance ofthe darkness the world ushered forth, claiming the power that fortified it's existence to resist those that supposedly judged the world and it's people. This would bring him through great manner of trials before his road ended and he found himself at the final fight. Slaying the man who had tainted the light with darkness, Rion too was effected due to his origin, the darkness spreading into his own heart...
It was then that he became something of a vagabond and mercenary across the omniverse, breaking the conventional laws of the boundaries his world had set, allowing him to transverse worlds due to the power he'd attained. It was then that his name streaked across many stars alike, where he encountered the Black Beast, Lucien, Asuja, the Val'gara, and many others alike who were of concepts beyond his imagination.
However in his final battle against his nemesis Lucien, he who polluted many planes alike with his putrid taint and darkness, Lucien was supposedly "killed" while Rion's powers were stripped at the price of the so-called death. Utilizing his powers to their maximum he was left for dead when his powers disappeared only to experience the increasingly vivid dreams in which he then awoke in Ivalice, the world created by the Gran Grimoire, a world which mimicked though was vastly different to a more original world that Rion never knew of.
Rion was powerless, memoryless, and frustrated. Living in a world where money made it go round, he became a mercenary, working for various guilds and agencies about. Getting in many fights and destroying people (to the bone, blood, and sometimes of their life) he finally stumbled upon a man who called himself Oni Balmore, a sanctified monk who seemed to enjoy the finer things of life, incredibly laid back and obnoxious. All the things Rion hated. They fought with all their might in a clash that destroyed much around them, only to find their backs together in defending the same things they'd been destroying.
It didn't take long for them to turn their swords on one another once more, but they both mutually resolved to meet again, in which they left the wrecked town as it was, traveling and becoming revered individually. While The Gold Lion, Oni, was honored for his incredible powers and physical capabilities with his body alone, Rion was feared for his impeccable swordsmanship and endless aptitude of potential (regardless of his lack of magic).
Eventually they'd grow to astronomical amounts, only to discover their powers needed to be banded together to stop a bigger threat once more. Conquering the airship known as "Ragnarok," they took it for themselves to avoid it falling into grave hands, and were branded traitors by all kingdom's worldwide, becoming the strongest and most feared sky-pirates overnight. Rion and Oni spearheaded the group, followed by many faithful members who had been with one another from the very beginning. Traveling the world, discovering treasures, fighting other pirates, their journey seemed endless...until they came onto the end of the world where they'd find the Gran Grimoire...
But not before coming across the very beast that was heralded through legend as the strongest in nature. It's appearance was very much alike something Rion remembered in his memories, black, extremely large, and vicious. Fighting the beast with all their might many of their friends were killed, Ragnarok wrecked, and their hopes and dreams crushed. At the last moment, Oni, becoming a hero for his comrade and people, asked Rion to go forth and grasp the Gran Grimoire to save them all and protect the memories they'd sought to grasp and nurture.
Rion, admiring Oni's courage, went forward into the heavenly chambers where the iridescent book rested, prepared to be grasped and given it's command. Rion touched it's outside -- and everything came spilling back into him. The memories of his past since his birth, his death at the hands of angels, his employment by said angels, his betrayal, everything he'd fought for, and his final battle. All of the memories collided in his head and the sadistic warrior grasped the tome and wished for one thing, and only one thing.
"Give me the power of the Eternal Flames once more, the true power of Rion Leingod, the power to destroy all things!"
A bolt of flames descended from the sky and struck the book and himself, enveloping them in the divine of it's endless wish-making power. A mere flick and the blast beast along with the majority of the temple was obliterated, flames consuming all in it's fury. Even the people who'd journeyed along with them, their fellow nakama, were destroyed by the ravaging fires that Rion had created. And all that was left was Rion and Oni, staring at each other, with Oni's eyes unbelieving.
"If only you understood, Oni. You've been my only true equal all alone, Lucien couldn't compare to the spirit you have...but now that's all over. You're
weak
Oni, and it seems once more I'll sit on the throne of endless power while you're stripped of your right as my
friend
. Because the only friends I can have are those that are my equal,"
It was then that after Rion's voice ripped through Gran Grimoire that he lifted the tome forth and struck it with all the fury of his might, the Albinus tearing through it's pages and essence in a single slash. The world rocked and cracked, breaking apart, along with it's people, as the very essence of the world began to collapse. People descended into the darkness of the abyss and were killed as all they knew was destroyed and the tome's destruction brought a shine that enveloped the surrounding area, bringing them to a mystical place calm and relaxing.
Rion was confused, but it'd all make sense within moments. A hooded mouse stepped out from the crystal behind Oni, stepping to his forefront without hesitation or fear unlike Oni and all others. Wielding a key of obscurity that they couldn't grasp he whipped it to his side and held it out towards Rion: "It's time to go to sleep, Rion!"
Though confused, he wouldn't ask questions.
"Give me power!"
Mickey and Rion clashed in an epic battle that could be seen from other worlds, a twinkling star glistening in the night sky. The end result was the use of Mickey's (or one of Mickey's) signature abilities that he'd prepared for this moment that he knew would come. Banishing Rion to the furthest corner of the worlds, he stripped him once again of his powers, his memories, and even the darkness of his heart. It was an ability that had a huge failure ratio, but due to Oni's interference and Rion's hesitation to resist, he was banished just as such, leaving Oni and Mickey in silence for them to go on from there.
Rion, awakening in the Radiant Garden, was found by a townsmen and his daughter where Rion's malnourished form was treated and given the heart of the people. Being a blank slate, Rion accepted their hospitality and helped them in days thereafter, becoming a guardian of sorts due to his natural brash and fighting nature. It was around that time that his keyblade mystically appeared, and that he defended himself against the evil monsters that had recently decended on the Radiant Garden.
Now he finds himself at a crossroads. He knows there's more out in the other worlds and wants to leave to figure out his true calling and purpose...but he can feel it, the darkness' beckoning call that tries to pull him forth. What exactly awaits him in his journey, and who is Rion really? Is he really the warmonger and monster of the past, or is he a true guardian of light who'll bless King Mickey and Sora in their fight against Xeonhart and the forces of darkness that want nothing more than power?
Statistics
AP
- 5/5, basic attacks with enough force to destroy moderate physical and magical defenses unless stated otherwise.
MP
- 0/0, indicating a lack of magical prowess in his rebirth.
STP
- 5/5, moderate stamina and endurance. User can last ten posts of (strenuous) combat without succumbing to exhaustion. User can withstand 3 Moderate physical and magic attacks without succumbing to pain.
SP
- 0/0, this indicates that Rion's reflexes are shabby and lackluster, but in no way indicates the overall linear speed he's capable of in the form of velocity of punches, attacks, etc. That's all dependent on the AP stat itself.
Weapons and Chains
Weapon
:
Name: Kingdom Key,
Height: 5ft
Width: 1.5ft
Weight: 55 Kilograms
Description:
"The key chain attached draws out the Keyblade's true form and power."
The Kingdom Key is the standard most recognizable keyblade and the standard form of all keyblade wielder's weapons thus far. Rion found himself having attained the blade after he'd awoken and was chosen by the light to become the one to save the world from it's desperate peril. Exactly how he attanied the light and came to be the wielder of the blessed key is unknown, but it's power is as holy as all others that've wielded it with their heart.
Chains
: N/A